Ag Hauling Services in Glencoe, MN
Rose Trucking Inc. is proud to offer reliable ag hauling services and DDG hauling in Glencoe, Biscay, Sumter, and Plato, MN. We offer both wet and dry hauling, as well as freight hauling with our clean and well-maintained equipment. When you work with us, you can always expect on-time pickup and delivery. And, because we exclusively serve the agricultural industry, you can rest assured you're working with an operator that understands your business and the products you need transported.
Dry Hauling
As the experts in dry agricultural products and DDG hauling, we prioritize constant contact with everyone involved in the transport process. We handle all the logistics and transport of your goods with exceptional care and great customer service. Rely on us to get your products where they need to go on time. We offer dry hauling for the following goods:
Feeds
Fertilizer
Grains
Dried Distillers Grains
Cotton Seed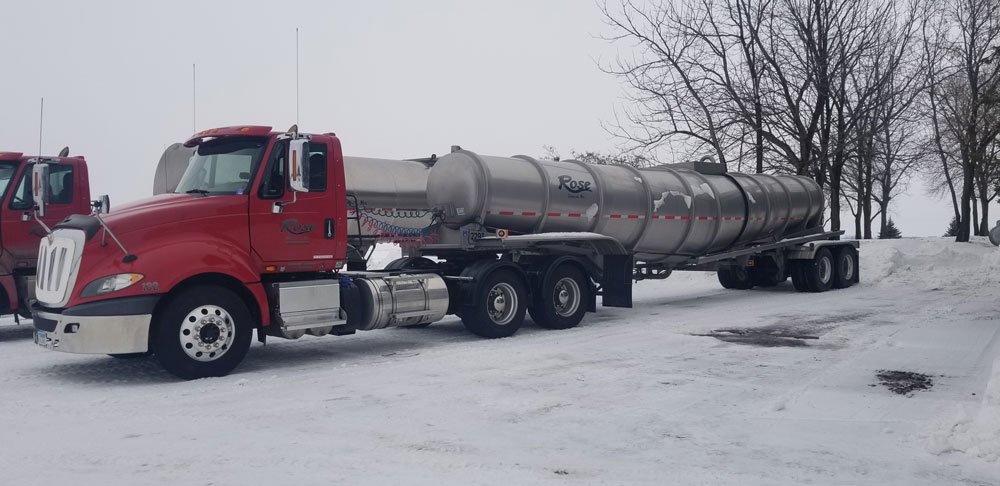 Wet Hauls
Wet agricultural products, including fertilizer and feed, need to be handled with the greatest of care. Hauling bulk liquid materials is a tough and oftentimes messy job, but we take care of it with skill and ease. Our quality fertilizer hauling equipment handles the heaviest loads on even the roughest roads.
Fertilizer: Liquid fertilizer keeps large fields fertile. Our tanker trucks can handle wet fertilizer hauling to your facility. Discover the benefits of using liquid fertilizer to maximize your yields.
Wastewaters: Agricultural wastewater needs to be handled according to strict regulations. Our tractor and tank services pick up waste at your desired field location.
Your Partners in Agriculture
Hauling wet and dry cargo is an essential part of the agricultural industry. Rose Trucking Inc. is proud to help those who feed our country with reliable DDG hauling. Call us today at 320-864-7699 to get a quote on ag hauling services or commercial wet hauling today.